In the middle of a Biosphere Reserve, belonging to the SIERRA DE LAS NIEVES, standing 650 metres up on the hillside, Ecohotel Puerto de Ojén is located in a privileged location in the Puerto de Ojen Rustic Environmental Centre, between the Sierra Blanca and the Sierra de Alpujata.
10km North of Marbella in the Ojen municipality, the road to the Ecohotel leads you through a mountain area that indulges all of the senses. The mountainous aspect of the land lends to there being a wealth of exceptional beauty spots.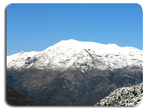 The name seemed the obvious choice to us, since we have made every effort to optimize the use of the area's natural resources, whilst fully respecting the native local Flora and Fauna. Ecohotel Puerto de Ojen offers all its visitors the opportunity to enjoy mountain life, without sacrificing any of the pleasures or comforts expected from a top-class hotel.
To enjoy the local Flora and Fauna, numerous footpaths and tracks connect the hotel to the surrounding villages.
A selection of activities are scheduled each day, such as: hill walking, trekking, tirolina, etc.
Or you can practice golf in the hotel's small training ground, with putting green to practice your approach.
- To see the activities we offer, click here

- Click here to visit theSierra de las Nieves website